Invitation to Join the Kerala Blog Express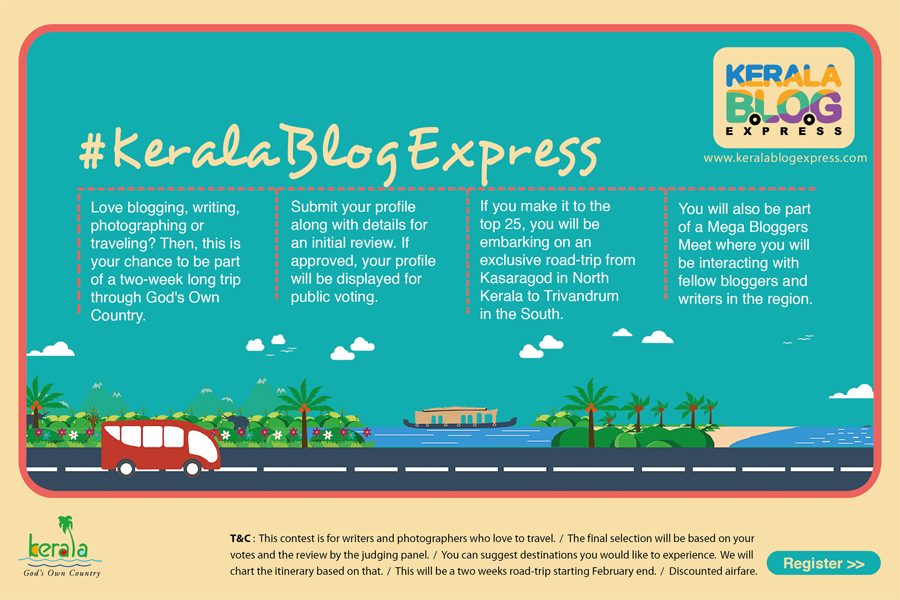 I have just received an invitation from Kerala Tourism. Kerala Tourism is organizing a first of its kind initiative titled 'Kerala Blog Express'  in the last week of February 2014. They are bringing 25  travel bloggers, writers and photographers from around the world for two weeks to experience Kerala from the North to the South.
The participants will be travelling in a luxury bus to gain first-hand experience of the natural beauty of Kerala. The itinerary will introduce them  to the local lifestyle and help them to share their experiences on their blogs & websites.
All you have to do is submit your details in the campaign micro-site (http://keralablogexpress.com/) for initial review. If approved, your profile will be displayed for public voting. You may also share it with your contacts and request them to vote for you.
Once the voting ends, if you are among the top 25 based on voting & also on the basis of the final review done by the campaign management team, you will be embarking on an exclusive road trip from Trivandrum in South Kerala to Kasaragod in the North.
What's more, during the journey you can tweet, blog, take pictures or publish your experiences in real time on to your favorite media. To ensure that the world gets to know about your experiences, the updates will also be featured on this website. Your trip will culminate in a Mega Bloggers Meet where participants get to interact with fellow bloggers and writers in the region.
So what are you waiting for? Register for Kerala Blog Express & ensure your seat on the memorable journey. – TF GO Holidays.